By Russ Richardson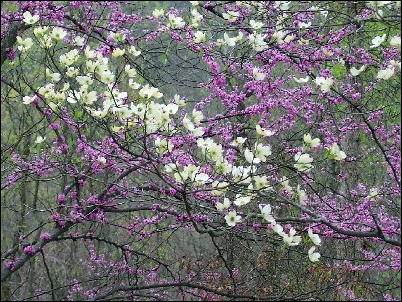 Calhoun County residents that have enjoyed the annual display of dogwood blossoms as one of the certainties of our Appalachian spring should take a special effort to enjoy and document this years' flowering.
In April 2007 a record breaking cold snap hit the area just as many trees and native shrubs were starting to flower. The cold weather ended up being lethal to the flowers of dogwood, redbud, pawpaw, white ash, elm and most maple trees and it stopped many of the most colorful aspects of a normal Calhoun County spring dead in its tracks. The spring and summer weather following the 2007 freeze was extremely dry and very warm and many plants and trees faired very poorly.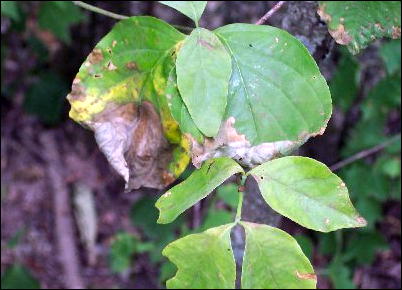 Dogwood anthracnose damage-dying leaves
In the woods of Calhoun County, an introduced disease of flowering dogwood, dogwood Anthracnose, spread like wildfire. Although dogwood Anthracnose has been in the US since the 1970s and it has already impacted most of the mountain counties of West Virginia, higher in elevation than Calhoun it had not seriously attacked local trees until last summer.
Because dogwood trees seldom grow larger than 6 inches in diameter and have no commercial value beyond landscaping, the disease has gone largely unnoticed. The combined stresses of the April 2007 freeze and the prolonged drought created ideal conditions for spread of dogwood Anthracnose and resulted in the deaths of untold thousands of central West Virginia dogwood trees. Saplings and smaller trees less than an inch in diameter were the first to die and today in many areas of the County the only dogwood trees now left alive in the woods are the oldest and largest individuals.
In many Calhoun woodlots a close look will reveal that very few healthy dogwood trees remain and that the flower blossoms are largely limited to the upper crowns of the largest trees. In some areas no dogwood trees less than 3 inches in diameter can be found alive.
The fruit of flowering dogwood has long been considered important to wildlife and the impact of its disappearance on wildlife is still largely unknown. The only trees likely to survive dogwood Anthracnose will be located in sunny spots with very good air drainage. The loss of this important forest understory tree will impact songbirds that choose the fine twigs and low hanging dogwood branches for locating their nests.
For additional information on dogwood Anthracnose please see plantclinic.cornell.edu