PROSECUTOR SAYS EVIDENCE "MISSING" OR SOLD, CHAIN OF CUSTODY PROBLEMS

By Bob Weaver

A special prosecutor asked Judge Thomas Evans III to dismiss an indictment against former Calhoun Chief Deputy Ron Bandy, during a hearing today in Grantsville.

Judges Evans denied the request, although Hough said there are major problems with the State Police's case.

At least seven counts was brought against Bandy and his girlfriend, April McCroskey, after they allegedly removed guns and other items from the residence of an elderly Big Springs couple who had been placed in a nursing home.

Hough told Evans the case should be dismissed because the WV State Police could not provide recordings of witness testimony. Those recordings were allegedly taken early in the case by Cpl. Doug Starcher, before a State Police officer from Charleston assumed the lead.

"The tapes have not been made available to parties regarding discovery," said Hough.

There was no information to what the problem was with the "missing" tapes.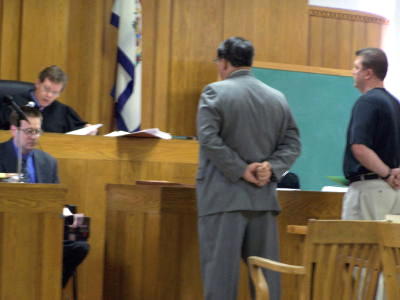 Attorney John Teare and former deputy
Ron Bandy stand before Judge Evans
Evans advised Hough that "I'll order the State Police to provide the witness recordings," after which Hough indicated there are other problems with the evidence, saying "The evidence may not reach the threshold to continue with the trial."
Hough then told the court there are problems with the chain of custody of evidence items.
The timing couldn't be worse for local State Police, after evidence was lost in the John M. Richards meth lab case, with Grantsville troopers reportedly being given lie detector tests over problems within the agency.
"I will not be able to prove the case," Hough said, indicating there are also problems related to evidence being sold.
Evans asked "You cannot prove your case?" after which prosecutor Hough and defense attorney John R. Teare asked Evans to agree to a pre-trial diversion, a legal device which would essentially put an end to the case. After one year, if nothing new surfaced, the case against Bandy would be dropped.
Evans declined to allow the prosecutor and defense attorney to discuss the issue in chambers.
"Many issues are raised by this problem," saying the case involves two officials, a deputy sheriff and an Adult Protective worker. "A judge must consider the public's interest and the public's confidence," Evans said.
Attorney Teare said the state's difficulties are outlined in his motion to dismiss.
Discussing points of law, prosecutor Hough said a prosecutor may enter into pre-trial diversion, but Evans contended the decision likely rests with him.
Evans said "I have no idea what the evidence is," saying to grant dismissal is a constitutional question, an issue that is "muddy."
Evans concluded that "You're wanting me to accept this dismissal, when there are very, very serious issues."
He then ruled the case would go to trial on April 3, but parties could present briefs regarding the matter before that date for his consideration.
Bandy's attorney Teare made a motion to dismiss the case in January, saying "The charges were not brought in good faith," indicating problems with the evidence.
State Police in Calhoun have had a number of evidence problems related to high-profile cases.
Calhoun prosecutor Matt Minney removed himself from the case early on because Bandy was a county employee.
Use keyword BANDY using SEARCH for related stories