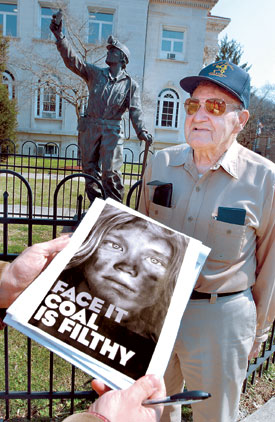 Bruce Starcher, 86, of Boone County, formerly of Calhoun
County, says he can't imagine an advertising campaign like
the one targeting coal-burning power plants in Texas. Starcher,
who worked 37 years in coal mines, is standing in front of
a tribute to coal miners at the Boone County Courthouse.
(Daily Mail Photo by Craig Cunningham)
Coalfield Residents Offended
by George Hohmann
Daily Mail Business Editor
Coal country residents are appalled by an advertising war in Texas that is bombarding residents there with images of soot-covered faces and the message, "Coal Is Filthy."
Chesapeake Energy Corp., a major player in West Virginia's natural gas industry, is one of the backers of the anti-coal message in Texas, where the company is joining forces with environmentalists to block 16 coal-burning power plants.
It's unfathomable in West Virginia's coal communities. In Madison, visitors are greeted with a "Gateway to the Coalfields" sign as they enter town. There's also a reminder that this community is "Home of the West Virginia Coal Festival."
Coal-fired power plants generate more than 98 percent of West Virginia's power -- the highest percentage in the nation. So, an anti-coal campaign is astounding to residents who view it as a source of livelihood rather than filth.
"It's not like that," said George Parsons, 60, who runs Parsons Building and Remodeling, which had a crew working last week to replace siding on the Coal Heritage Museum in Madison.
"Coal can be made clean. It's not like it used to be, no. This is our livelihood." The anti-coal advertisements in Texas are blasting plans by electric companies to build coal-burning plants.
In a profile of the energy battle, The Dallas Morning News reported that most Texas power companies have rejected both natural gas and the newest coal-burning system, integrated gasification combined cycle. They've said natural gas is too expensive and integrated gasification unproven.
A group called the Texas Clean Sky Coalition expects to spend more than $1 million on its dirty-face ad campaign, according to the Dallas newspaper. The advertisements featuring faces smudged with black makeup began appearing in Texas newspapers last month.
"Face it," an accompanying Web site says. "COAL IS FILTHY... Live better. Live longer. NO MORE COAL PLANTS."
One of the backers is Chesapeake Energy, a major producer of natural gas in Texas and West Virginia.
Chesapeake entered West Virginia in 2005 when it bought Columbia Natural Resources for $2.2 billion. Chesapeake Chief Executive Officer Aubrey McClendon and Gov. Joe Manchin soon became friends.
McClendon said he liked Manchin's "Open for Business" attitude. Manchin loved Chesapeake's record of creating high-paying jobs and being involved in the Oklahoma communities where it had a presence.
In his 2006 State of the State speech, Manchin announced that Chesapeake would build its regional headquarters in Charleston.
But after a $404 million Roane County jury verdict in January over royalties, Chesapeake put its regional headquarters plan on hold. McClendon said the verdict also prompted him to reconsider the company's exploration program in West Virginia.
Chesapeake and other West Virginia natural gas producers urged the Legislature to pass a bill designed to clarify state laws that govern royalty payments, but the legislation didn't go anywhere in the session that ended Saturday. Manchin said he might call a special session of the Legislature to clarify the royalty laws.
Manchin told The Associated Press last week that he was disappointed by Chesapeake's role in the Texas advertising campaign.
West Virginia Coal Association President Bill Raney also called the advertising campaign disappointing.
"The whole ad campaign completely disregards all of the progress we've made in improving the way we use coal to generate electricity," Raney said.
"It's becoming better each day. It's the most efficient and effective way of using our natural resources to make electricity, and it's certainly the one that affords the greatest benefit to the public because we're able to do it at a price much less than natural gas or any of the alternative means of generating electricity."
Chesapeake spokesman Scott Rotruck, who spent 15 years in the coal industry, apologized for the advertising campaign but said the situation is different in Texas.
"I would like to say I am sorry to any of my fellow West Virginians who may have been offended by the advertisements in Texas," Rotruck said.
The biggest power generator in Texas, TXU Corp., recently pledged to cut the number of new coal-fired power plants it will build from 11 to three in exchange for a buy-out blessing from environmentalists.
"Those ads were specific to Texas," Rotruck said, "and they did appear to cause the serious conversation they were intended to have about the fuel supply at those utility plants."
The political and energy landscape is completely different in Texas than in West Virginia, he said.
"In an ad campaign, sometimes you will have some sensation in order to elicit a serious conversation about a serious issue," Rotruck said. "You have to understand that was Texas-specific -- specific to that market situation and everything about it related to that area, that market, the uniqueness about it there."
One reason the coal and natural gas industries are not at each other's throats in West Virginia is because they have common interests, said Norm Steenstra, legislative coordinator for the West Virginia Citizens Action Group.
"The two industries are so interdependent on issues like water quality, this whole battle over trout streams," Steenstra said. "Oil and gas and coal are quite closely aligned, particularly in water regulations and severance tax issues. They need each other."
Such an open clash between two energy giants is a foreign concept in West Virginia's Boone County, where coal pays the bills.
Boone County was the top coal producer in the entire state in 2005, according to Coal Facts, an annual publication put out by the West Virginia Coal Association. Boone produced 30,648,389 tons of coal that year, twice the output of No. 2 producer Kanawha County.
In terms of direct coal employment, Boone County also was tops with 3,614 workers. That also bested Kanawha County's 1,551 workers directly employed by mines.
Such an advertising campaign would be considered a slap in the face if it were to occur in West Virginia, several Boone County residents said.
"Tell out West to leave us alone," said Ernest Lee Porter, 57, a member of the crew working on renovations to the Coal Heritage Museum. Porter said he spent 27 years in underground mines cleaning belts and as a roof bolter.
"If you go out of state, they're always trying to make West Virginians look like a bunch of hogs. That really gripes me."
Scott Napier, 47, owns Pig Out BBQ, a Madison eatery where miners and their families come to dine. Napier himself spent 11 years in mines, sometimes coming out covered in soot like the images in the advertisements -- but quickly showering and going home clean. "It's stupid," he said of the image in the Texas ad. "This doesn't exist around a coal camp. I'd rather breathe this fresh air than go in the cities and smell the smog and diesel."
At the Boone County Courthouse, where a 7-foot statue of a miner stands as a tribute to the industry's role in the county, 86-year-old Bruce Starcher paused for a few moments to discuss the advertisement.
"It's exaggerated," Starcher said. "It looks like she's even dirtier than the people who work in the mines."
Starcher said he spent 37 years in coal mines, doing a little bit of everything. He began as a general laborer and finished as a foreman. His paychecks provided a home for his wife and two girls in Uneeda.
He had a hard time envisioning an advertising campaign in the local Coal Valley News that would feature the phrase "Coal is Filthy."
"I can't imagine it," he said. "The coal industry supports everything we have."
Corky DeMarco of the state Oil and Gas Association said Wyoming County is the No. 1 producer of natural gas in West Virginia. He said Boone County is also a significant producer.
"Before the Internet, people in various parts of the country would take stands that may not have been consistent with their positions relative to their investments in other places," DeMarco said.
"But now, we're in an instantaneous network of news and people in the Appalachian Basin feel differently about coal and natural gas than people in Texas and Oklahoma do."
"One of the most unfortunate things we did in this country is convert coal-fired plants to natural gas-fired when the demand for gas was outstripping the supply," he said. "All you have to do is look at what happened to natural gas prices after Rita and Katrina, when just 10 percent of the former supply wasn't there.
"If we had spent the time and money on scrubber technologies, these coal-fired power plants would have been cleaner, sooner." To find out more about this advertising campaign, click on www.cleanskycoalition.com