By Bob Weaver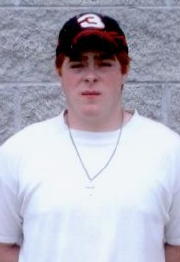 Following a WV Supreme Court ruling, a re-trial has been scheduled for convicted murderer Ronnie Rush on May 28th in Jackson County, with a preliminary hearing set for May 11th.
Public defender Teresa Monk said the re-trial was granted because the Grantsville Detachment of the West Virginia State Police botched the case, saying it was "riddled with problems."
Former public defender Shannon Baldwin, during the trial, told the jury "Our evidence...will show some damaging testimony to the State Police ... You're going to be disappointed by State Police conduct."
Rush was found guilty in Calhoun Circuit Court of the brutal double slaying of 69-year-old Warden Groves and his ex-wife, 60-year-old Mary Hicks of Sand Ridge.
The couple was shot to death in their bed at close range in their home along US 33-119 in an area known as Bear Fork.
The WV Supreme Court reversed Rush's conviction following an appeal last year, with the court ruling there were "substantial defects" during the investigation and in the case presented by the local State Police.
Judge Thomas Evans III ordered a change of venue to Jackson County.
The jury convicted Rush of voluntary manslaughter, first-degree robbery, nighttime burglary and conspiracy to commit robbery, although the case lacked forensic evidence.
He was sentenced to consecutive terms totaling at least 45 years.
Following the order for a new trial, Calhoun Prosecuting Attorney Matt Minney said "The state intends to go forward with a re-trial."
Minney said Rush cannot be charged with any greater offenses than those previously charged.
The Supreme Court ruling concluded that Rush's 2005 jury wrongly heard statements that were improperly taken from Rush by the Grantsville State Police, related to unconstitutional procedures in obtaining his testimony.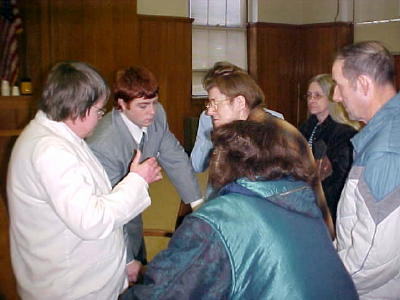 Teresa Monk (far left) talks with Ronnie Rush (in gray suit)
and his family members, shortly after guilty verdict was read
Testimony was taken after Rush advised officers he wanted an attorney, with the officers apparently ignoring his request.
Supervising officer Sgt. Dale Fluharty, according to testimony, burst through a door where Rush was being administered a polygraph test, yelling profanities at Rush after he "lawyered up."
"Sgt. Fluharty was irate and began cursing at the 16-year-old young man, and threatened him with some violent threats, according to witness testimony," said Monk.
A State Police polygrapher said Sgt. Fluharty told Rush he would "Knock your F---in' head off," after Rush had requested an attorney.
Sgt. Fluharty told the tester that "He had no patience for interviewing anymore."
Fluharty was suspended one day with pay for his unprofessional behavior.
Monk, speaking to the high court, outlined a series of events while Rush was in State Police custody over an 18-21 hour period that ignored due process, saying they ignored the youth's rights to counsel, including not having his parents present.
"The young man was not allowed to speak to a counselor, or even his parents, except one brief phone call. They fed him once," she said.
The initial investigation was conducted by Trooper Doug Starcher and Sgt. Jeff Cooper. Monk said officers gave contradictory testimony several different times throughout the trial.
The record indicates Fluharty didn't inform detachment commander Sgt. Jeff Cooper of the youth's request for an attorney.
Fluharty said "I didn't think it was relevant."
There was no gunshot residue in a GMC Jimmy driven by Rush after the murders.
Sharon Lemons of the State Police's forensic unit said there was no blood on 35 samples taken from Rush's camo shirt.
Steven King of the State Police fingerprint section said none of the money taken for evidence was tested for fingerprints, although two latent fingerprints were found on a flashlight.
The court's ruling did uphold the decision to try Rush as an adult.
THE BRUTAL MURDERS
Rush had been making his home with the couple when the murder occurred.
Following a 911 call made by Rush, the victims bodies were discovered in separate beds, shot to death at close range.
Groves had come into a large sum of money after the death of a brother.
During Rush's trial, police said some of the money was found in a pick-up truck driven by Rush and later in a trash basket at his father's house.
State Police first arrested Bobby Ray Shamblin for the murders, based on a statement issued to the police by Rush, who accused Shamblin of the crime.
The case against Shamblin was dropped during a hearing before a Calhoun magistrate because of lack of evidence linking Shamblin to the murders.
State Police problems with the Rush case is among a number of foul-ups by the Grantsville Detachment of the State Police, including cases of lost evidence, alleged stealing of guns or money by officers and other instances of professional neglect or misconduct.
Transcript of the Rush case and Supreme Court decision WV Supreme Court