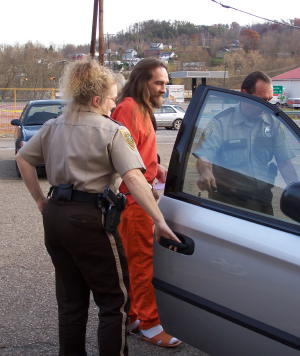 Billy Ray Hardway, 45, being returned to CRJ after pleading not
guilty to assaulting DNR officer John Apgar (Hur Herald Photo)
Forty-five-year-old Billy Ray Hardway of Daniel's Run pled not guilty yesterday afternoon to a charge of assaulting DNR officer John Apgar in August.
Hardway appeared before magistrate Teresa Robinson in Grantsville.
The assault warrant, a misdemeanor, was obtained by Cpl. Doug Starcher of the WV State Police after officer Apgar shot Hardway in the shoulder while he was attempting to serve Hardway a warrant related to an earlier incident.
The warrant says that Hardway was hiding behind a door and was reaching for a knife when Apgar shot him.
The shooting incident happened after Apgar answered a 911 call related to a dispute with three juveniles on Daniels Run.
Apgar filed three charges of wanton endangerment with a firearm over a dispute. Those charges have now been dropped.
The shooting happened several days later when Apgar and another DNR officer returned to serve a warrant.
Apgar reportedly called 911 requesting an ambulance, failing to report a gunshot victim.
Apgar has been placed on duty in another county since the incident.
Hardway is currently in Central Regional Jail on a firearms charge, a felon in possession of a firearm. He was indicted by a Calhoun grand jury on the charge, with bond set at $100,000.
Hardway was returned to Central Regional following Monday's hearing.