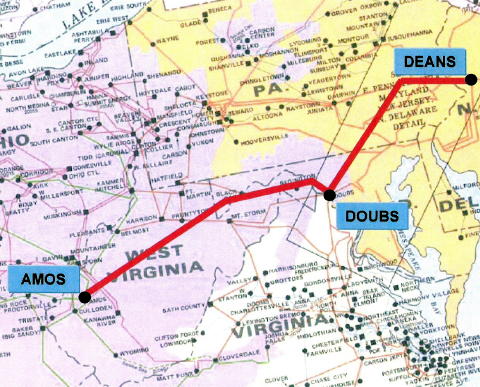 A straight-line map for giant 550-mile transmission line
shows it coming through Calhoun, but all is subject to change
By Bob Weaver
American Electric Power has filed with the Federal Energy Regulatory Commission and other agencies to build a new 765-kilovolt transmission line stretching from the John Amos Power plant at St. Albans to New Jersey.
A straight-line map drawn across WV shows the line coming through Calhoun County, between Millstone and Orma.
The map is only conceptual, and subject to change, says the company.
The last big infra-structure that was on a straight line path through Calhoun was I-79, but after a political rumble, the road was severely dog-legged east of Gilmer County, particularly after leading Calhoun politicos and businessmen opposed the highway coming through the county.
The proposed transmission superhighway will span approximately 550 miles and and will enhance reliability in the eastern transmission grid.
Several counties in PA have already expressed concern regarding the super-structure coming through their built-up communities.
The projected cost is approximately $3 billion.
The anticipated in-service date is 2014, assuming three years to site and acquire rights-of-way and five years to build the line.
American Electric Power is one of the largest electric utilities in the United States, delivering electricity to more than 5 million customers in 11 states.
AEP is the nationís largest generator of electricity, owning more than 36,000 megawatts of generating capacity.
It also owns the nationís largest electricity transmission system, a nearly 39,000-mile network that includes more 765-kilovolt extra-high voltage transmission lines than all other U.S. transmission systems combined.