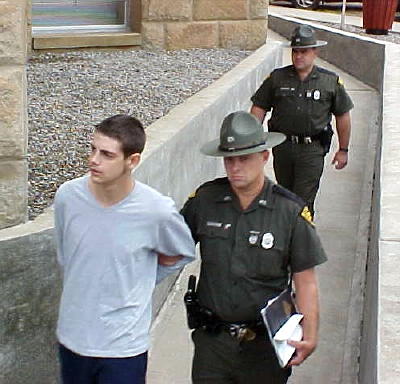 Cox being taken to arraignment following murder by
Sgt. Darrin Campbell and Cpl. Doug Starcher (Hur Herald Photo)
By Bob Weaver
Nineteen-year-old Christopher Cox, a 2004 graduate of Calhoun High School, was indicted yesterday in the First Degree Murder of Russell Metz, 49, a Calhoun County resident.
Cox was also indicted on other charges related to robbery and burglary.
Cox, who is being held in Central Regional Jail, allegedly shot and stabbed Metz last August.
Neighbors reported Cox had been in a dispute with Metz prior to the murder and Metz had ordered Cox off the property.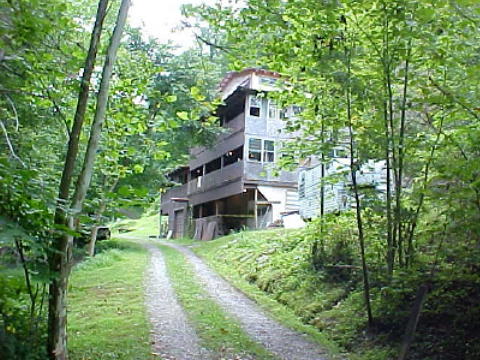 Metz's body was discovered by authorities in this large four-story dwelling (described as a camp) near U. S. 33-119, close to the Roane County line. (Hur Herald Photo)
Cox was taken into custody by Sgt. Darrin Campbell and the West Virginia State Police following an all-night investigation of the crime scene.
The Spencer Police Department learned about the murder after Cox's mother, Christine Cox, called their department.
She said her son was in a distraught condition suffering from a wound to his arm. She took him to Roane General Hospital where he was treated.
Police recovered Metz's truck in possession of Cox.
Ms. Cox said her son had been staying with friends in Calhoun following his graduation.