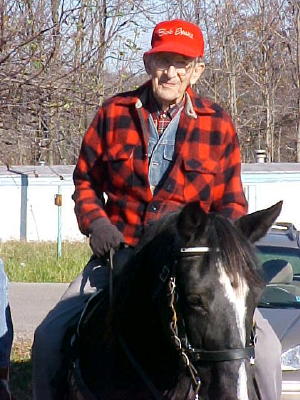 Willard at home on "Shadow"
The greater Nobe community turned out yesterday for a horseback ride, mostly for the benefit of the Mayor of Five Forks, 86-year-old Willard Jones. Willard is a longtime rider, who not long ago suffered a broken hip.
"Can't keep an old codger like me down," he said, climbing on his stead at his son's (Charlie Jones) house on Kelley Road.
Last night he said "To tell you the truth, I needed a little help to get off," after a ride out Nobe to Lost Ridge, down on Leatherbark and back.
About fifteen took the rather long ride, including a donkey and buggy rider.
"Hey, eatin' that potato soup and cornbread down on Leatherbark was pretty good too," said Willard.
It was a beautiful day for a ride.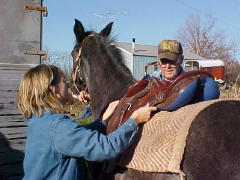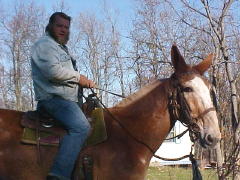 In the old days no one asked how many miles a horse did on a bundle of hay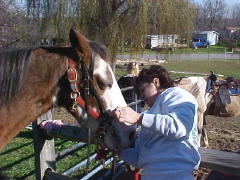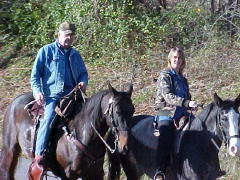 They always say people need more horse sense, there is
just as much horse sense as ever, but the horses have most of it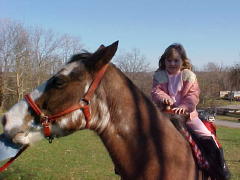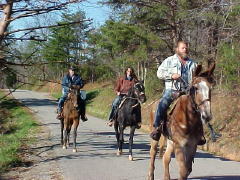 Learning to ride a horse can be difficult, the animal is
uncomfortable in the middle and dangerous at both ends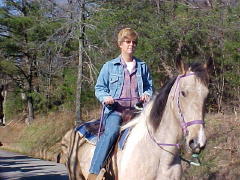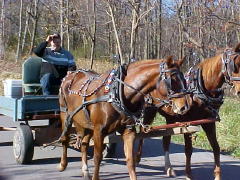 We cannot expect to have an honest horse race
until we have an honest human race