By Bob Weaver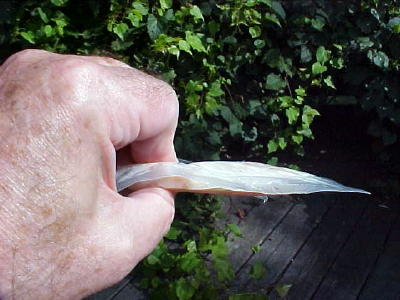 It would be fascinating to see how this paper-thin
chicken in its frozen state would "fry-up" for a serving

(Hur Herald Photo)

One year ago the Herald reported "red flags" on the door-to-door sale of meat "bargains" from a pick-up truck.

Now, West Virginia Attorney General Darrell McGraw has sued Mr. Meats, a Nitro-based outfit, and owner Bill Parsons in Kanawha County Circuit Court, alleging the company sells poor quality meat and does not abide by consumer protection laws.

The company was selling steaks, chicken and seafood in Calhoun and a number of other WV counties, with the sales rep telling customers that "the cost per portion, not pound" is what counts when purchasing meat.

The frozen meat came in large cardboard boxes, with a small amount of content. The company price list used to make the sale did not give the weight of the serving or the weight of a package of the product.

Many customers ended up buying $150 to $270 for a number of boxes which contain little product.

The seafood package sold for $328, according to the brochure, and contained about 14 1/2 pounds of frozen fish and seafood, making the cost about $23 per pound.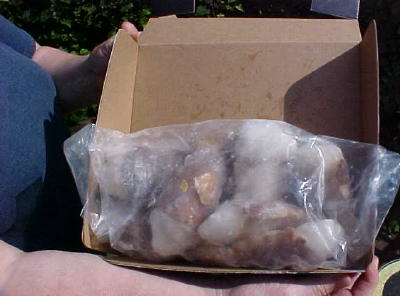 Shown 2 pounds of lobster tails, brochure price is $84

(Hur Herald Photo)

The lawsuit said the company misrepresents the type of meat being sold, does not give consumers a three-day right to cancel, does not honor legitimate requests to cancel sales and charges unlawful bad check fees. McGraw also said the company does not have a food handling permit from the Kanawha-Charleston Health Department.

"The meat being sold by the defendants is inedible and frequently is not safe to consumers," McGraw said.

"Consumers should be very careful of businesses selling perishable food products door-to-door," he said.

The lawsuit seeks refunds for customers and civil penalties.

Parsons said the allegations are not true and that he delivers a good product.