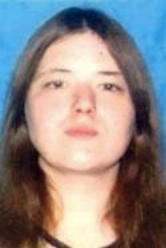 Nearly two years have passed since Christian Dawn Starcher Seabolt (pictured left) vanished from her family in Spencer.

The 18-year-old girl left her mother Vickki Starcher's apartment on August 31, 2002, telling her she was going out to get a pack of cigarettes.

She has not been seen since.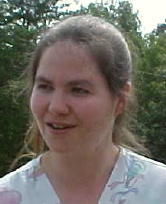 Now comes some startling accusations by a Clay County woman Renee Boyd (pictured right) of Ovapa's "Murder Mountain." She is the long-time girlfriend of Tommy Young, Sr., who is currently in jail for shooting Boyd's brother Richard Cummings.
After a week of gunfire on Murder Mountain, Boyd claims her brother and his girlfriend Sandra Khalaf ate "b - - - h burgers" made from the missing woman's body.
Cummings and Khalaf were key witnesses in the murder case against Tattoo Vince Gosolow, who was found guilty of murdering Roane Countian Judd Reid.
A Creston, Wirt County man, Russell Davis, 45, who was arrested a few days ago on cocaine charges, was also a principal witness in the murder case.
Gosolow is reportedly seeking a new trial based on mistakes made during the investigation.
Since the Starcher Seabolt's disappearance, family members have feared she is dead. Unsubstantiated stories in the community connected her to Tattoo Vince Gosolow.
Rumors circulated that the missing woman had been killed by individuals connected to the murder case, and her body was fed to a large 750 pound hog on the Gosolow farm.
Starcher's mother says she still doesn't know what became of her daughter, but there is one thing she does know. She told Spencer Newspapers her daughter was not caught up in a drug and murder case that has kept people guessing.
The missing girl's father, "Moe" Starcher of Spencer, believes differently, and has been relentless in trying to find some answers.
Trooper First Class M. T. Baylous told the Clay Communicator "I can say that at least she was an acquaintance of Mr. (Tattoo Vince) Golosow," but asserted "no other body was found" when Golosow's residence was searched by the State Police and FBI on October 18th.
Baylous said Trooper Doug Starcher of the Spencer Detachment was investigating the Seabolt disappearance.
Sandra Khalaf said she was aware of "another possible murder at the scene," referring to statements made to her by Gosolow, after he reportedly killed Reid.
Gosolow told Khalaf, according to the search warrant, she "did not have to clean up the mess in the bedroom and to stay out of there. He further stated it was his mess ... Ms. Khalaf took this to mean there was a dead female in the bedroom," referring to the acquaintance as Dawn."
Police said Khalaf passed a lie detector test.
Feuds have erupted after hundreds of rounds of automatic rifle fire flew across Murder Mountain last week. Richard Cummings received several gunshot wounds after bullets went into his mobile home.
Cummings and Khalaf live a short distance from Tommy Young, Sr. and his live-in Renee Boyd. Both have children who have been caught in the crossfire. The Young house has numerous bullet holes.
Renee Boyd, referring to Christian Dawn Starcher Seabolt, told the Clay Communicator "Richard is suppose to be a big bad killer ... he's involved with all the killings ... I'm scared."
"Richard was involved in the Judd Reid killing. He told me, it was out of his own mouth, he and Sandy (Khalaf) ate 'b - - - h burgers' from the woman's body.
"They ground her up in a wood chipper and they made 'b - - - h burgers and ate 'em. That's my own brother. When he gets geeked out, he comes up here and talks.
Read earlier stories:
- "It's A War Zone..." 8/20/04
- "War Breaks Loose On Murder Mountain" 8/19/04